While Barcelona is known for its vibrant beach life, you might want to shake the sand out of those flip-flops, put on a sturdier pair of shoes and head inland, Catalonia.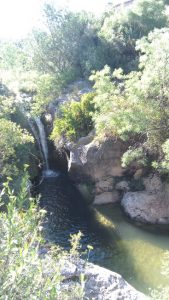 If you are bored of the schematic pool, hotel, bar scene, a good way to go about hunting some fresh waters is to check the natural parks around the Catalonia Capitol. There sure are plenty those. Just to name a few, there is Natural Park of Valls de l'Anoia, where you can discover a beautiful waterfall (cascada in Spanish and in Catalan). In Sant Llorenç del Munt i l'Obacs natural park you can enjoy some refreshing dips into pure natural waters. El Moianès has some breath-taking views and some cliffs, where you can sit and luxuriate with serenity.
If you are looking for places where you can indulge yourself in some au naturel skinny dipping or other hanky-panky, without having to worry that somebody would wander from the wilderness, you might want to check out some other hidden local places.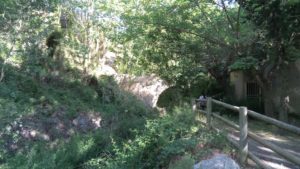 One of these little more old school and secluded destinations is the charming Torelles De Foix. It's just about 20 minutes with a bus from Vilafrance Del Penedes (an hour train ride from Barcelona). From the village you can reach, by walking some 40 minutes, the Piscina "Les Dous".
Piscina de Torrelles de Foix "Les Dous" is a perfect break from the hectic city life to enjoy some sun and flowing pure water. This way of traveling is especially recommendable if you are on a budget. A train ticket to Vilafrance Del Penedes and back is under ten euros and bus tickets are ridiculously cheap. With under five coins you can get a ticket from Vilafrance Del Penedes to Torrelles De Foix.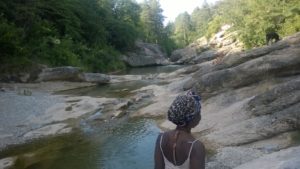 So, if you are allergic to big crowds, traffic on the streets or the beach, traveling just outside Barcelona is your thing. There are plenty of places to go and plenty of ways to get there!