Airport El Prat (BCN) Barcelona
Barcelona–El Prat Airport, (Catalan: Aeroport de Barcelona – el Prat, Spanish: Aeropuerto de Barcelona-El Prat), also known as Barcelona Airport, is an international airport located 12 km (7.5 mi) southwest of the center of Barcelona, Spain, lying in the municipalities of El Prat de Llobregat, Viladecans, and Sant Boi.
It is the main airport of Catalonia, the second largest and second busiest in Spain behind Madrid-Barajas Airport and also the seven busiest in Europe. In 2016 Barcelona Airport handled a record 44.1 million passengers, up 11.2% from 2015.
Terminal 1 (T1)
After the security control, Barcelona Terminal 1 smoking area is located at the outdoor terrace next to the Costa Coffee. Unfortunately there are no signs leading to it. Just follow signs to Costa Coffee or to the terrace.
A new Terminal 1 designed by Ricardo Bofill was inaugurated on 16 June 2009. It is the fifth largest in the world and has an area of 548,000 m2 (5,900,000 sq ft), an aircraft ramp of 600,000 m2 (6,500,000 sq ft), 13,000 new parking lots and more than 20,000 square meters of shopping areas.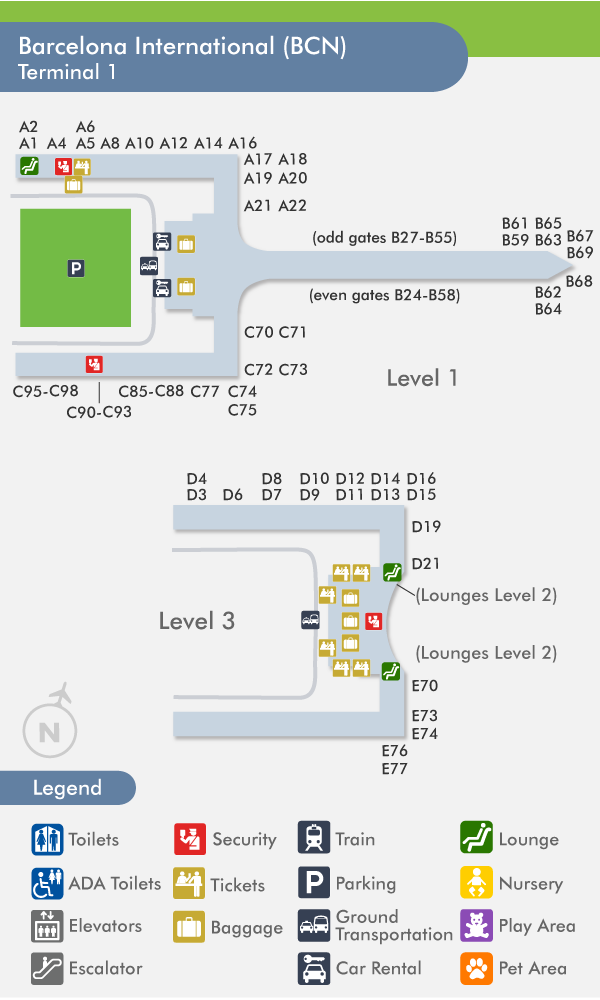 With this new terminal, the airport is able to handle up to 55 million passengers per year and reach 90 operations per hour.
Terminal 1 has several VIP lounges: Pau Casals, Joan Miró, Colomer, a business centre, a gym, a chapel/prayer area, a spa, showers and various rooms for sleeping (Air Rooms). There is also a big terrace with cafeterias and restaurants and even an outside area reserved for smoking.
Terminal 1 Airlines:
Terminal 2 (T2)
In Terminal 2 (T2), you are only permitted to smoke outside the building, before check-in or after your arrival. There are no smoking areas inside T2.
Terminal 2 is divided into three linked sections, known as Terminal 2A, 2B and 2C. Terminal 2B is the oldest part of the complex still in use, dating back to 1968. Terminals 2A and 2C were added in order to expand the airport capacity before the arrival of the 1992 Summer Olympics held in city. This expansion was also designed by Ricardo Bofill Levi.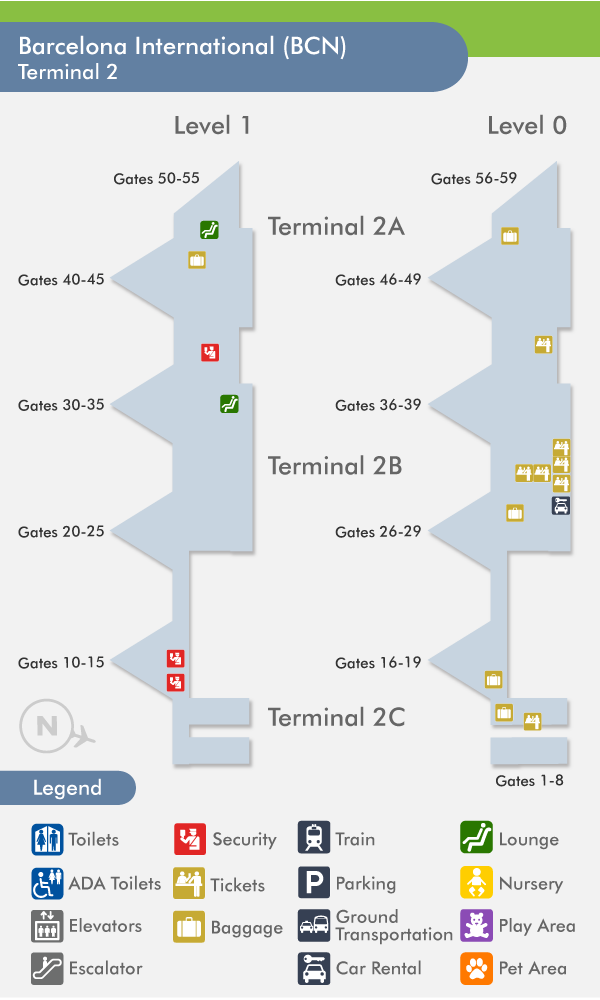 This terminal is most occupied by low-cost airlines, although there are some airlines which are not low-cost in this terminal.